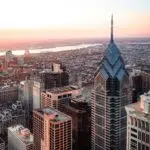 Demystifying Web Development: A Starter Guide for Small Businesses in Philadelphia
June 28, 2023
In the city of Philadelphia, where every corner hums with the hustle and bustle of small businesses, mobilizing your digital presence is not only beneficial, but essential. Saving both time and money, responsive web design can further your reach to local customers on their preferred devices. Allow us to take you through the best practices and tips for implementing responsive web design to give your Philadelphia-based business an undeniable edge.
What is Responsive Web Design?
Responsive web design is an approach to web development that allows your website to adapt to different screen sizes and devices. It's about ensuring that your website's user experience is optimized, whether accessed on a desktop, a tablet, or a smartphone.
The Why and How of Responsive Design
Visitors to your site expect seamless navigation, whether they're browsing South Street boutiques on a laptop or checking out Reading Terminal Market's offerings on a smartphone. A responsive website saves development time and costs by allowing for one site to fit all screens – no more creating separate sites or apps for different devices.
Best of all, responsive web design is good for SEO. Google prefers mobile-friendly sites as more and more searches are performed on mobile devices. This means that with a responsive site, your business can climb higher in search results – reaching even more Philadelphia locals.
Best Practices for Responsive Web Design
To ensure your business reaps the full benefits of a responsive design, here are some best practices:
Fluid Grids: These are a key tool in responsive design, enabling page elements to resize in relation to one another, rather than using fixed, pixel-based dimensions. This makes your site flexible across devices.
Flexible Images: Images should be resizable and should not distort or lose clarity as the viewing device changes. An effective method is to set a max width for all your images to ensure they scale well.
Media Queries: These are used in CSS (Cascading Style Sheet) to adjust the design and layout of your site depending on the device's screen size.
Mind the Navigation: Simplified navigation routes provide a smoother experience for mobile users. Drop-down menus and collapsible forms are excellent options.
Implementation Tips
To begin your journey towards a responsive website, remember the following tips:
Start Small: It's often best to start designing for smaller screens and work your way up. This mobile-first approach ensures usability on the smallest device.
Test, Test, Test: Test your website on various screen sizes and devices to ensure it's truly responsive. Use website testing tools that can emulate different devices and screen sizes.
Don't Forget About Speed: Mobile users are often on-the-go, so ensure your site loads quickly on all devices.
Creating a responsive website for your small business based in Philadelphia isn't just a good idea – it's a necessity. Ensure your site's design responds to your users' needs and the devices they use. After all, in the bustling streets of the City of Brotherly Love, it's all about being accessible and user-friendly.